Healthy Numerology with Dr. Bhambi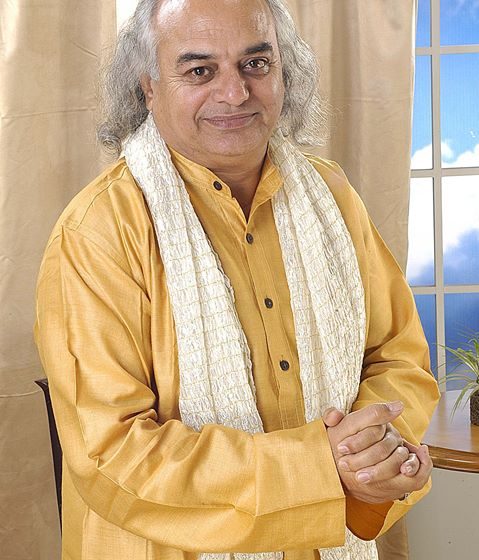 Doctor Ajai Bhambi, a celebrity astrologer, numerologist and Vastu Shashtra expert of international repute, is a strong advocate of astrology and has been guiding and helping people for over 30 years. He is famous for his accurate predictions of political and economic events, calamities and disasters. Be it actors, politicians, sportspersons or an artist, people from all walks of life come to Dr.Bhambi in search for solutions. He has written several books on astrology and also writes columns in various national and international magazines and newspapers…Vasujit Kalia in conversation with Dr. Ajai Bhambi about the traits of people born under the numerological number 2 and also sheds light on how their eyes-related concerns are influenced by the astrological number 2… Excerpts:
Numerology is one of the important aspects of astrology. Astro-numerology is the science that describes the influence of the heavenly bodies on our lives. Each number has a definite connectivity with a certain planet that is why every number is so unique, different and independent from the other number.
Number 1 belongs to the Sun and Number 2 comes under the ruler ship of the Moon.
Sun is the lord of the solar system while Moon represents all of us on the earth. That is why whenever there is full moon or a new moon, there are huge tides in the ocean. If this is what the new moon can do to the oceans, then we humans are bound to be affected as the human body comprises more than 70 percent of water. Therefore, the up-surge in the ocean water also affects each and every individual in the world, in one way or the other. It is generally observed that lunatic people have adverse reactions during this time.
Personality of Number 2 (People born on 2, 11, 20 and 29 of any month)
People born on 2, 11, 20 and 29 of any months belong to Number 2.They are moody and prefer privacy in life. Those born under this number are prosperous, respectful and honorable. They enjoy poetry, music and art. They are believed to be peaceful, sensuous and maintain balance in life. They act purposefully and authoritative. They depict non-committal behavior, individual stability and self-supporting tendencies. They have a devotional and idealistic outlook towards life. However, they need to be careful about their health. Profession best suited for them are diplomats, arbitrators, real estate, serviceman, politicians, teachers, researcher and reformer.
Personality-wise, those born under Number 2 are self-motivated. Moon being the God of this number, which fall on the zodiac sign Cancer, makes these people have pleasant personalities. They are imaginative by nature and have their own opinions about things and like to use their own discretion. People born under this number are lovers of beauty, creativity and elegant lifestyle. Friendly zodiac signs of basic Number 2 are 3, 6 and 9.
The basic Number 2 people are masters of creativity and are always fascinated with new ideas. They are helpful, kind at heart, convincing and perfectionists but lack stability and have a fluctuating nature. They cannot stick to one particular thing for long but if they learn to be stable, they can do wonders in life.
Number 2 Traits in a Nutshell:
Peaceful and gentle, inventive, selfless service and helping nature
Good aesthetic sensibilities
When humiliated and hurt you become a tough fighter
Not disheartened and you do not surrender easily
Shows fore-bareness, love and tender care
Social
Believe in the principle of live and let live and hence are a good peace maker
Cosmopolitan outlook, truthful, intuitive, firm and self-reliant
Good conversationalist and brilliant speaker
Tend to suffer from health-related issues.
How to protect our eyes
People born under number 2 have very deep and penetrating eyes. They are advised to wear green or black coloured shades and avoid red coloured shades. Dr.Bhambi cautions that since their ruling planet is Moon, people born under this sign are prone to dust and dryness in the eyes and, therefore, should lubricate their eyes whenever they are in dry and windy weather conditions.
Famous Bollywood stars born under this Number:
Sushmita Sen– Born on November 19, 1975, Trait of number 2—large expressive eyes.
Former Miss Universe in 1994,Sushmita Sen is known as a multi lingual film star. Primarily known for her work in Hindi films, she has also appeared in Tamil and Bengali regional movies. She has won several accolades including a Filmfare Award.Famous for her social work, she is also known as a strong single mother of two.
Amitabh Bachchan- Born on October 11, 1942, Trait of number 2—Expressive eyes.
The multifaceted personality of Amitabh Bachchan has attracted fans towards him not only in India but across the world. He first gained popularity in the early 1970s for films such as Zanjeer, Deewaar and Sholay. Referred to as the Shahenshah of Bollywood, Star of the Millennium and Big B,Mr. Bachchan has appeared in over 200 Bollywood movies in a career spanning more than five decades. Mr. Bachchan is widely regarded as one of the greatest and most influential actors in the history of Indian cinema as well as world cinema.
Mr. Bachchan has won numerous accolades in his career, including four National Film Awards as Best Actor, DadasahebPhalke Award as lifetime achievement award and many awards at international film festivals and award ceremonies. He has won fifteen Filmfare Awards and is the most nominated performer in any major acting category at Filmfare, with 41 nominations overall. In addition to acting, Mr. Bachchan has worked as a playback singer, film producer and television presenter. He has hosted several seasons of the game show Kaun Banega Crorepati, India's version of the game show franchise, Who Wants to Be a Millionaire? He also entered politics for a time in the 1980s.
The Government of India honoured him with the Padma Shri in 1984, the Padma Bhushan in 2001 and the Padma Vibhushan in 2015 for his contribution to the craft. The Government of France honoured him with its highest civilian honour, Knight of the Legion of Honour, in 2007 for his exceptional contribution in the world of cinema and beyond.
Ajay Devgn- Born on April 2, 1969, Trait of number 2—He has penetrating eyes.
Vishal Devgn known professionally as Ajay Devgn, is an Indian film actor, director and producer. He is widely considered as one of the most intense and influential actors of Hindi cinema, who has appeared in over a hundred Hindi films. MrDevgn has won numerous accolades, including two National Film Awards and four Filmfare Awards. In 2016, he was honoured by the Government of India with the Padma Shri, the fourth-highest civilian honour of the country.
He made debut in Bollywood with PhoolAurKaante in 1991 and received a Filmfare Award for Best Male Debut for his performance. He then starred in successful films such as Jigar (1992), Sangram (1993), Vijaypath (1994), Dilwale (1994), Suhaag (1994), Haqeeqat (1995), Naajayaz (1995), Diljale (1996) and Ishq (1997). In 1998, he appeared in a critically acclaimed performance in Mahesh Bhatt's drama Zakhm and he received his first National Film Award for Best Actor for his role in the movie.