Add a dash of festive freeze with CRYO Stay Young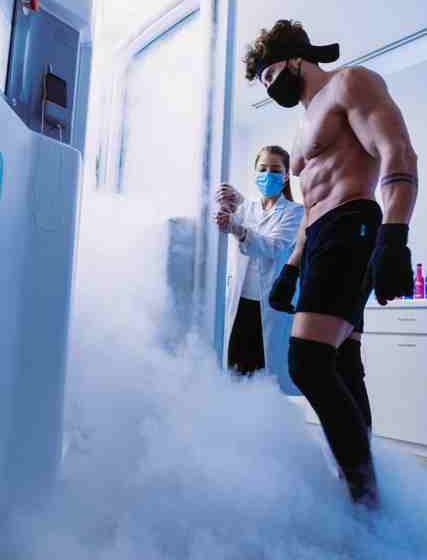 As the temperatures drop in the UAE, residents excitedly prepare for the festive season to connect and rejoice with the ones they love – either physically or virtually. For most, thinking of the holidays conjures visions of brisk winters, blazing fires, and snowball fights. While we cannot bring the snow to the UAE, CRYO Stay Young, a global leader in cryotherapy, will delight those missing the cold weather of the holidays with its fantastic festive offers.
Cryotherapy is an innovative treatment based on the localized or full body use of intense cold to reduce the surface temperature of the body to 4 °C. This drop boosts blood circulation, which in turn results in a higher metabolic and caloric burn rate. The increased circulation of healthy nutrients in the body stimulates various health benefits in the areas of performance, recovery, wellness, beauty, and slimming. CRYO Stay Young offers a variety of different services including whole-body cryotherapy, localized cryotherapy, cryotherapy facials, and more.
What better gift to give during the holiday season of this bizarre year than one that transports your friends and family to a colder place that would remind them of home, if only for a few minutes. A CRYO Stay Young gift card offers recipients the ability to choose what cold therapy to undergo, depending on their personal goals, with treatment prices beginning at AED340. Gift card prices range from AED100 to AED1,000, providing you with the flexibility to customize as per your needs. For those who are time-strapped, gifts can also be purchased via the brand's website cryo.com with a few clicks of your mouse.
In addition to gift cards, CRYO Stay Young will also offer a promotion this season that allows you to pamper your loved ones and yourself at the same time. From December 6 to 31, any client that purchases a 10-session package or above will receive a FREE gift card worth AED340 (equivalent to 2 CRYO points) to give to a person of his choice. This combined treat is a wonderful way to reward yourself for making it through 2020 while also putting a smile on a friend's face.
Residents of both Dubai and Abu Dhabi can indulge in these frosty treatments this festive season, as CRYO Stay Young's branches can be found in Emirates Towers in Dubai and the Abu Dhabi Country Club in Abu Dhabi. For more information about gift options from CRYO Stay Young or general information about cryotherapy, please contact 04 351 8300 (Dubai) or 02 667 7736 (Abu Dhabi).